Hannibal Lecter, Fashion Maven
Lately, I've been feeling a bit like Clarice Starling, a well-scrubbed rube with a little taste. Sure, my pocketbook looks fabulous. But exactly what statement am I making with my worn-out shoes?
Over the last six months, I have worn through three, count 'em, three pairs of my all-time favorite ballet flat, the Jack Rogers Slim.
Oh Slim, how I loved you.
When I wore a dime-sized hole in the soft leather soles of Pair #1 within two months of purchase, I rushed the shoes off to the cobbler, as if carrying a sick puppy to the vet. Sadly, the new sole he applied began to peel off just a few weeks later. When the Slim went on sale, I ordered two more pairs in black and gold thinking that perhaps Pair #1 was just a lemon. Neither fared any better than my original pair.
I arrived at the unhappy conclusion that I was the owner of cheap shoes. Adding insult to injury, my cheap shoes had cost me a good chunk of money. It was time to upgrade.
If you are a man, you can turn to any number of fine establishments for exceptionally made shoes that will last decades (or at least get you through Career v. 1.0). Mayor Bloomberg claims he's been wearing the
same two pairs of loafers
to work for ten years. If you would like to weep green tears of bitter envy over perfect tassel loafers, I invite you to read Reggie Darling's ode to Alden slip-ons
here.
But for us double X chromosomes? Labels and price no longer seem to guarantee quality. As I read through blogs and forums though, it appeared that Ferragamo still has a cult following of women who swear that their flats have lasted them for years. Last week, fortified by a dry martini and reassured by
Lisa at Amid Privilege
, I bit the bullet and ordered a pair of Ferragamo Varinas in tortoiseshell printed patent (thankfully on sale).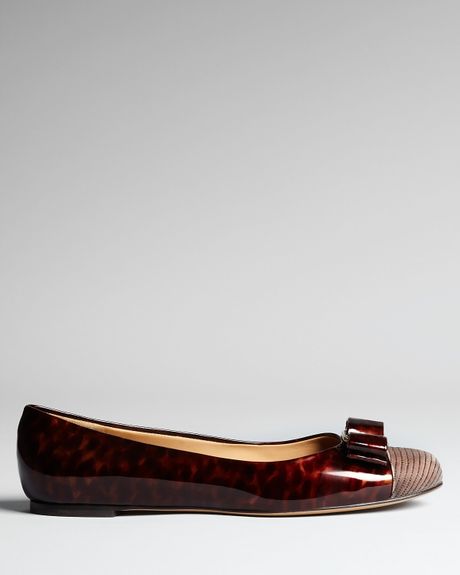 Will they last? Only time will tell.