In its heyday, St. John Knits was the uniform of a certain kind of woman: professional, polished, and (ahem) established. Its jackets featured 22k gold-plated and hand-enameled buttons. It hems were knit-in, not sewn. Its fabrics were famously forgiving, and could be taken in or (more often) let out through a steaming process called blocking. It did Reagan Red like nobody's business.
When I was in high school, the company took out a full page color ad every Sunday in the L.A. Times Magazine featuring Kelly Gray, the daughter of the company's founder. Kelly Gray stretched out on a zebra-skin rug with shirtless male model. Kelly Gray standing by a limo with a bevy of handsome shirtless male models. Kelly Gray lounging poolside in Brazil with (you guessed it) even more shirtless male models.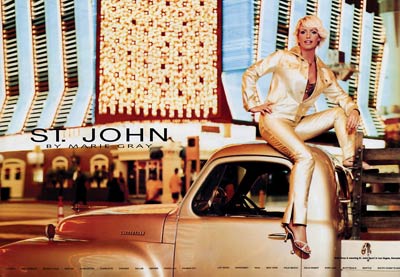 Kelly Gray's world couldn't have been more different from mine, but I loved her, as did St. John's legions of rabidly loyal fans. Then, the unthinkable happened. The Grays were pushed out, and the new owners inexplicably chose Angelina Jolie as the brand's new face. Angelina Jolie, who promptly broke up Brad and Jennifer. Angelina Jolie, the embodiment of every O.C. trophy wife's greatest fear. The fans were not happy.
After some back-pedaling, St. John survived, and its multi-level store at the South Coast Plaza remains a haven for shoppers seeking gala-ready gowns and impeccable service. I was lucky enough to find a sequined gown just prior to the Jolie scandal at an outlet in Vegas. I'll show it to you in two weeks when I wear it to the Junior League's
prom
casino night. But with the exception of a couple of jackets bought on sale for my mom for Christmas gifts, I bought no other pieces of St. John's Santana knits.
So imagine my joy when I walked into
Second Time Around
in Torrance last weekend and found a stockpile of new-with-tags St. John. I walked out with this skirt, originally $300, but marked down to $50.
Knit-it hem
The Nordstrom tag is still attached!
I picture it with a low-slung gold chain belt. Perhaps an over-sized brooch. Nude hose, for a bit of Nancy R. camp.
In case you are feeling badly for the Ms. Gray, don't. She and her mom have just launched a new line,
Grayse
, which will no doubt have as solid a following as their old venture.