I finally got around to seeing the latest installment of the James Bond franchise, Skyfall. It would have been completely unremarkable except for these two scene-stealers: the insanely gorgeous French-Cambodian-Chinese actress, Bérénice Lim Marlohe
and this little guy by
Royal Doulton
, tragically sold out everywhere.
Jack, as he's known, sat on M's desk throughout much of the movie. Turns out, he has a refined pedigree - in the 1940s, Royal Doulton made "Churchill" bulldogs as patriotic symbols.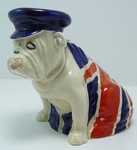 Perhaps the original was a bit more charming, but this time around Jack has his own James Bond intro.
If you are in love, fear not. Like James Bond, Jack will be back - in February 2013.